A Journal to Help You Identify Core Beliefs & Apply God's Truth
Our simple five step process is designed to help you identify what you're feeling, thinking and believing. Then, you compare these thoughts and beliefs with God's truth. Finally, you write a prayer everyday to begin to renew your mind according to His truth.
A Simple Process to Renew Your Mind
Identify Emotions

Emotions are physical sensations. Learn to recognize and put words to your feelings, as well as where you experience them in your body.

Identify Core Beliefs

Learn to identify patterns of thoughts and what they indicate you may be believing about yourself, God or the world around you.

Be Transformed

Reflect on your core beliefs in light of God's eternal truths, so that you can begin to replace the lies and experience freedom.
Overcomers Journal
Regular price
Sale price
$36.99 USD
Unit price
per
Sale
Sold out
A quarterly, Biblical, therapeutic journal designed to help you identify feelings thoughts, and beliefs. It also features a simple and effective process to compare your thoughts and beliefs to God's word through prayer to be transformed.
Share
View full details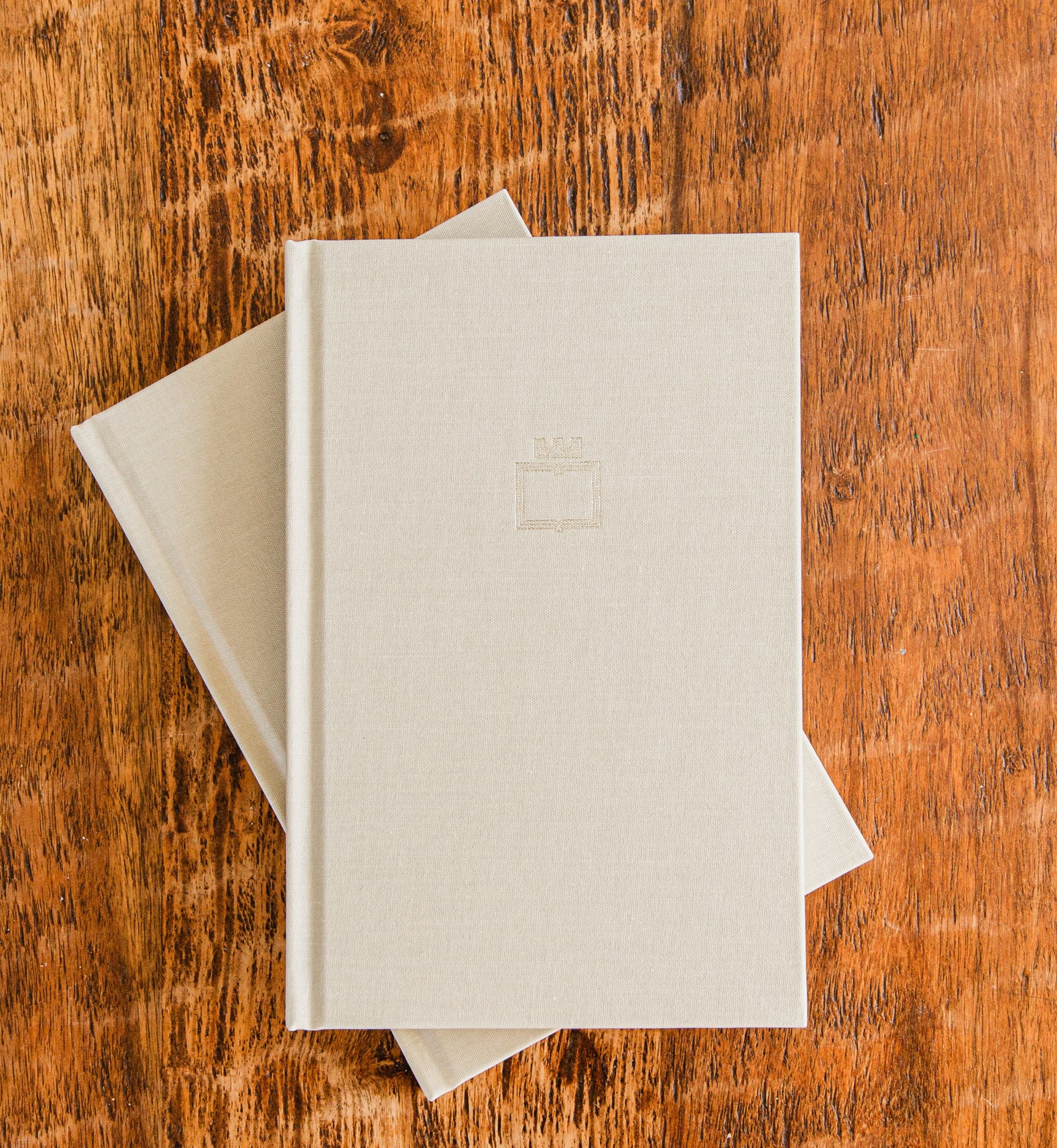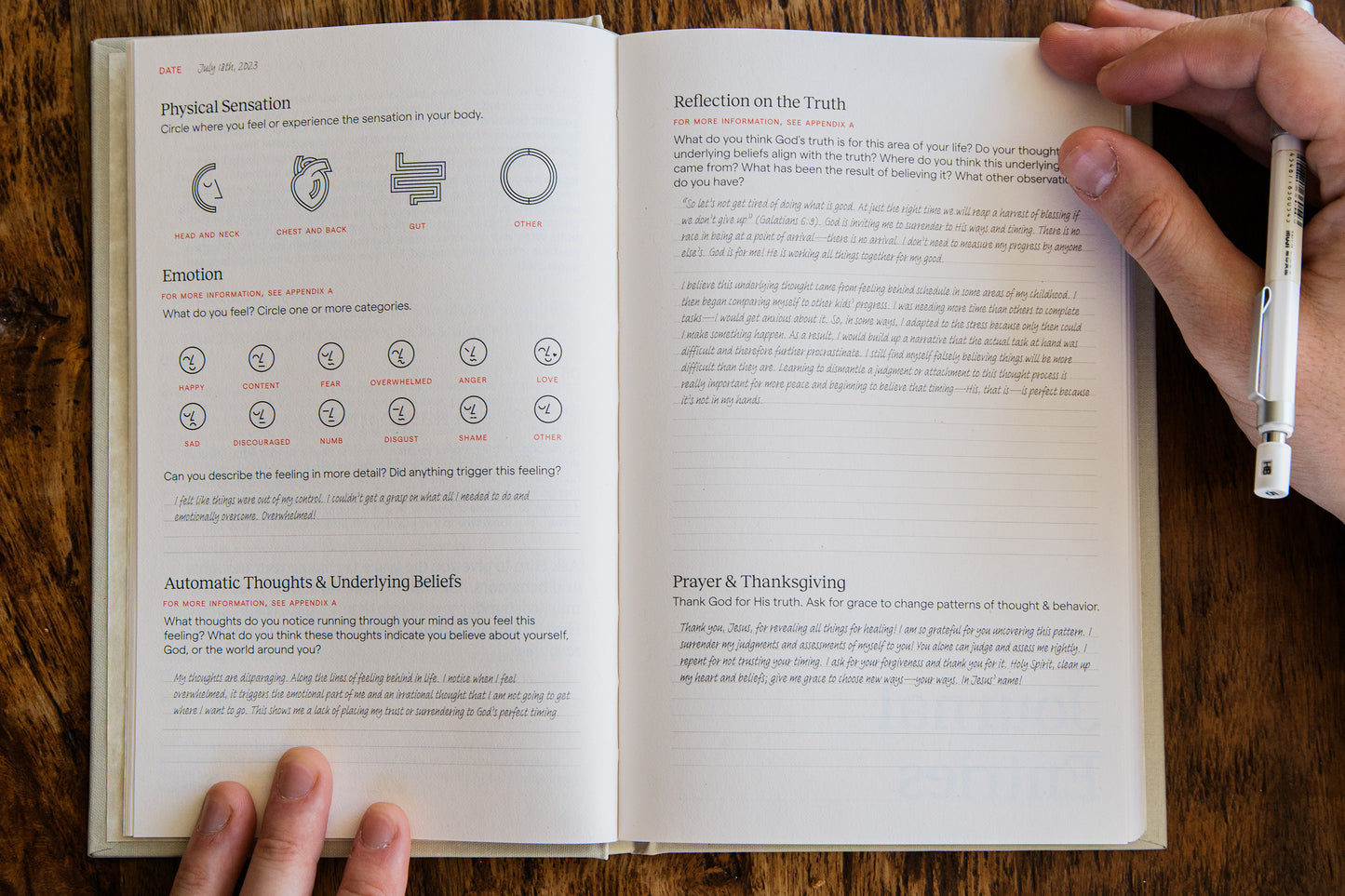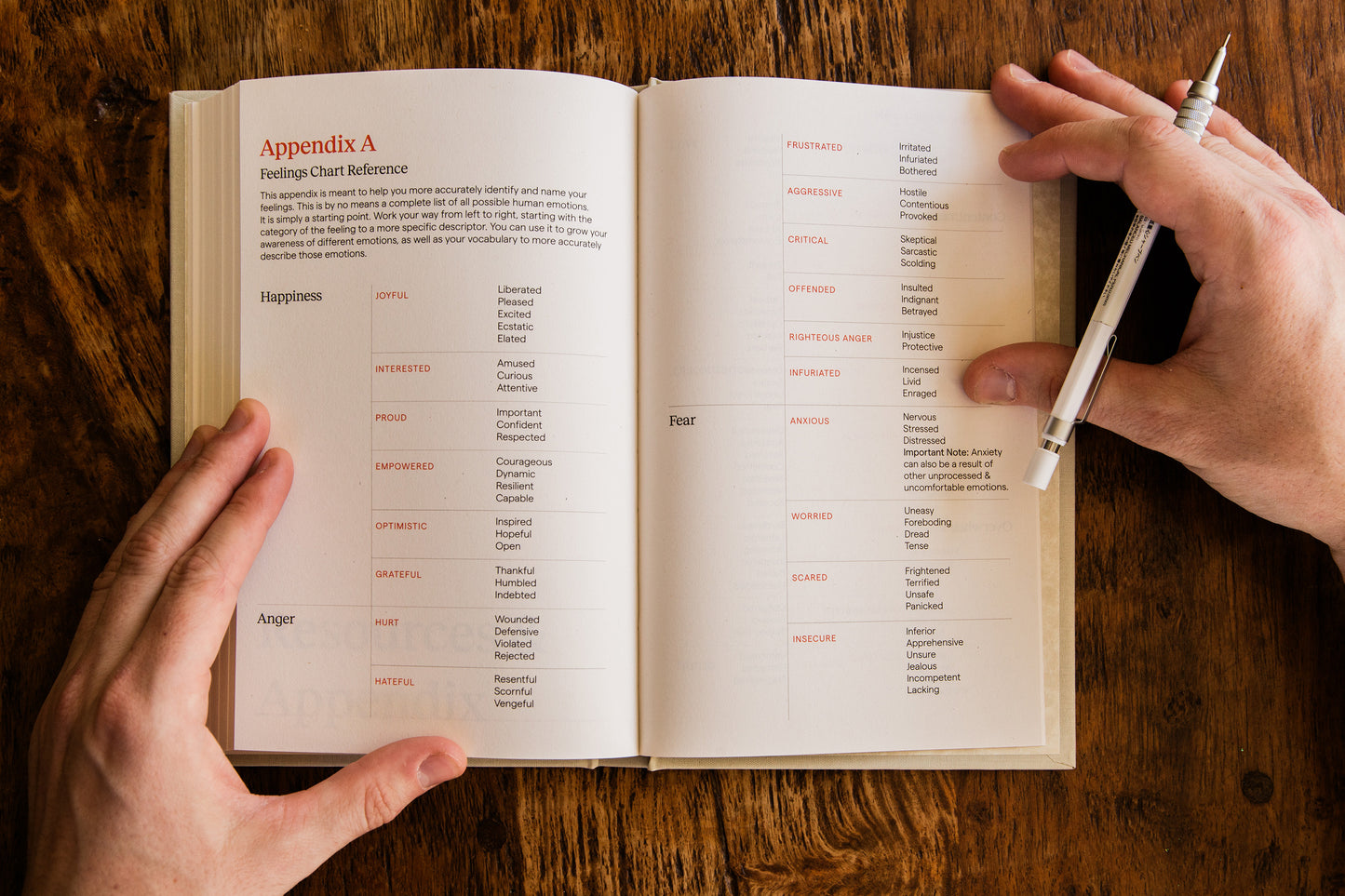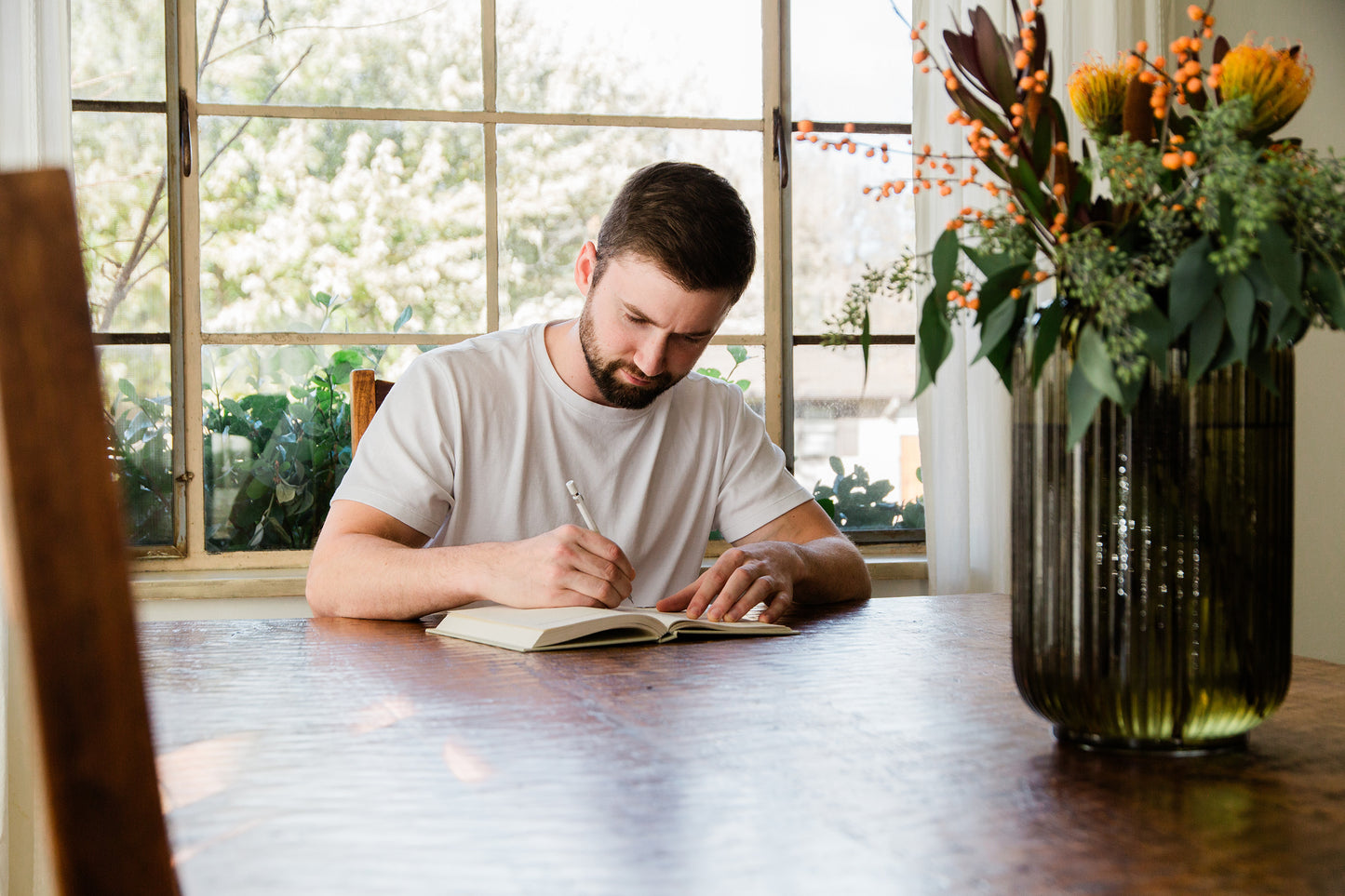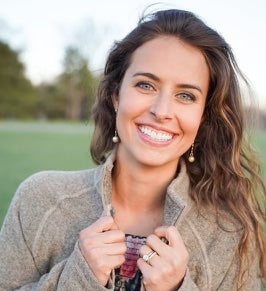 "As a Believer who was seeking guidance on how to better understand strong emotions and its impact on the body, The Overcomers Journal has transformed how I process these with the Holy Spirit.
This Journal beautifully intertwines how our thoughts, emotions, and physical experiences can be a toolkit for growth in Christ, resilience, and a deeper understanding of what we are experiencing in daily life.
I found this Journal fostered my growing prayer life and enriched my experiences with alone time with the Lord. It allowed me to confront what was really going on in my whole person and to prayerfully ask God to help reflect back His truths.
I believe The Overcomers Journal is an invaluable resource any Christian looking for more mental, emotional, and physical freedom would strongly benefit from using."
Olivia Woodring
Counselor and Naturopath, MA LPCC CNHP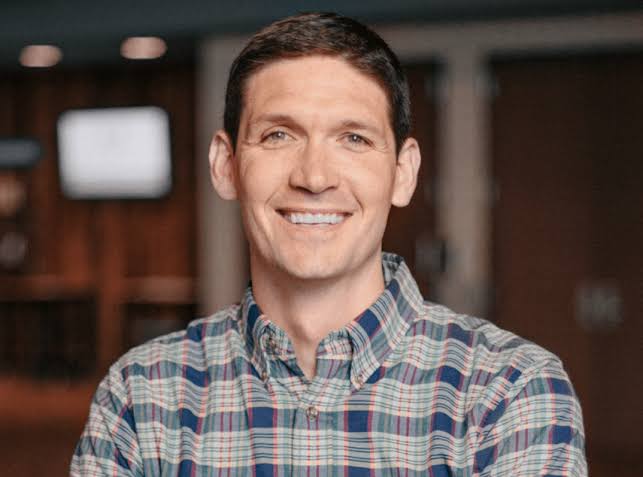 "The ability to write yourself clear has a healing effect on the deep places in the soul. You are able to spot lies and find the good, true and beautiful in the world, in you, and around you. The Overcomers Journal provides the framework to help you get started and to pull from your mind and heart some of the confusing and muddled things each of us can find in there and make it clear. I couldn't recommend it enough."
Matt Chandler
Senior Pastor, The Village Church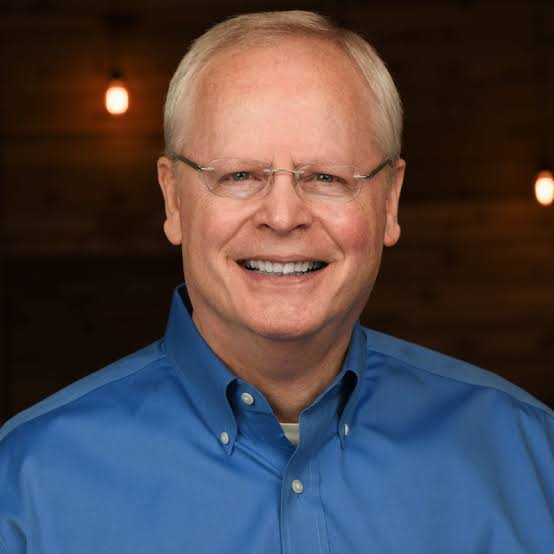 "Anxiety. Doubt. Shame. Fear. Unbelief. Anger. Bitterness. Unforgiveness. These are ugly words that all too often are found in the experience of Christian men and women. The alternative, according to the apostle Paul, is to 'be transformed by the renewal of your mind' (Rom. 12:2).
If you long for renewal and freedom from the debilitating effect of these experiences, The Overcomers Journal is for you, and is to be commended for providing this remarkably insightful and powerful tool to facilitate ever-increasing growth in our conformity to the image of Christ. Highly recommended!"
Sam Storms, Ph.D.
Professor, Author, Founder of the Convergence Network
"This journal is an approachable tool that marries God's word and the work of the Holy Spirit with neuroscientific principles and modalities used in the clinical mental health space."


Eliana Lay, LPC

"The Overcomers Journal has given me the structure to address the thoughts and feelings that weigh me down. The tool dismantles the things I don't need to be carrying around with me while then also empowering me to embrace truth that transforms my mind and heart."




Brianna McIntyre

"Beautiful, uncomplicated, and genuinely helpful in leading us to greater freedom in Christ - this journal is a gift to the body and a joy to use."


Katia Adams
Sr. Pastor, The Table Boston
Author, Equal